Harvey Star Washington is searching for new and up-coming designers, seamstresses, and tailors for a new clothing line. Contact Mr. Washington for more information.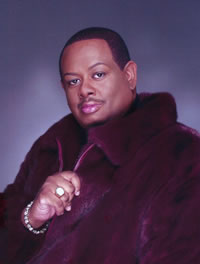 Women and people of color grow up in a world that looks upon them as inferior. As a result, many lack self-confidence and can appreciate the benefits of having an opportunity to shine. Others who've overcome the negative stigma enjoy presenting how magnificent they truly are!
Getting professionally transformed into Dream Girls and GQ Gents… being among the first to adorn the designer wear of tomorrow… strutting down a raised runway, heads high, under the glow of spotlights… and receiving thunderous applause from peers and press enable our very special people to rise to a level of grandeur that typically only superstars ever experience.
Many of my models are novices, who wouldn't be able to gain this kind of privileged exposure, first time out. Experienced shows won't use them. And, modeling agencies that charge fat fees don't guarantee to place them.
"Experts the Image" models receive serious, professional training for runway modeling, featuring techniques I've gleaned on tours worldwide. In addition, they get to build a resume and photo portfolio that can help qualify them experts for future modeling assignments.
If the idea of a priceless experience to shine in a world-class fashion event appeals to you, I invite you to come try out for a modeling debut with Experts the Image.
By God, you're beautiful! Let's show the world, together!
Sincerely,
---
Intro • Home • About • Make-Overs • Photos • Model Call Info • Upcoming Events
Purchase Tickets • Fan Club • Testimonials • Eyes On You Clothing • Sponsorship Information
Contact Us
E-mail: info@harveystarwashington.com
© 2005–2007 Harvey Star Washington. All rights reserved. Disclaimer.